DEATH OF A LEGEND
LAKERS NATION MOURNS THE DEATH OF KOBE BRYANT
JANUARY 26, 2020 | By Adrian Gonzalez
UPDATED JANUARY 29, 2020
KOBE SAYS GOODBYE TO LAKERS NATION
There are certain moments in time that literally stop the world from spinning. Those moments are few and far between, but when they happen, it is cosmic. For most of us, that's a once or twice in a lifetime moment. January 26th is one of those days you'll always remember where you were when you heard the news that the Lakers legendary icon, 41 year-old Kobe Bryant died in a fiery helicopter crash in Calabasas. Shocking, tragic and heartbreaking are words that best describe this day. Truthfully, those are just words, and in no way do they adequately describe the pain we are all feeling over this loss.
The BLACK MAMBA
When the shock where's off, we'll reflect on what this day means. We remember Kobe as if he was just that 18 year-old that came into our lives as a teenager drafted by the Lakers and GM Jerry West. In 1996 he was a lanky skinny kid who was drafted to the NBA from Lower Merion High school in Philadelphia. Drafted 13th in the first round by the Charlotte Hornets. It's unreal to believe that at 18 years-old, Bryant was already a house hold name. In his first game on November 3rd 1996, Bryant was scoreless, in six minutes of play, also obtaining a rebound, a block and steal. Kobe would rise to the level of legend and icon helping the Los Angeles Lakers to win 5 NBA championships. Bryant was an All-Star 18 times, 11 All-NBA First Team awards, 2 NBA Finals MVP winner, 2 time Olympic Gold Medalist, Slam Dunk Champ, number 3 on the NBA scoring list (now 4th behind Lebron James) and an Oscar award winner.
FLYING HIGH at STAPLES CENTER
On the morning of January 26th, 2020 Bryant, his daughter Gianna who Kobe referred to as "Gigi" perished in this crash along with 7 others on the ill fated Sikorsky S-76 helicopter. The flight originated from Orange County's John Wayne airport, the passenger manifest reflects that on board were OCC Baseball Coach John Altobelli, his wife Keri and daughter Alyssa, Youth Basketball coach Christina Mauser, Sarah Chester and daughter Payton and pilot Ara Zobayan. The 9 people on board were on route to a youth basketball tournament where Gigi was to play. NOTE: The NTSB has concluded their initial investigation; an initial summary report is expected shortly.
Needless to say, Bryant was very proud of Gigi, and even recently stated she could have been the first female to play in the NBA. As for Altobelli, he was the longest tenured coach at Orange Coast College where he won 4 national championships and was the 2019 coach of the year.
Kobe with daughter Gigi
The news of Bryant's death sparked a flurry of tweets, and post from athletes, entertainers and politicians honoring the basketball giant. Irvin "Magic" Johnson during an interview with CBS news said "Kobe was supposed to be talking about me like this some day, I wasn't supposed to be talking about Kobe this way." Kobe's legend spread far and wide and he was an icon within icons. Kiké Hernandez of the Los Angeles Dodgers stated that the only time he ever was completely starstruck as an adult was meeting Kobe Bryant, thanking Bryant for the legacy he left behind, for introducing us to the "Mamba Mentality" and showing us what it means to be an absolutely fierce competitor. During the introduction to the Grammy's Sharon Osborne stated that many Grammy interviews have been canceled due to the artist being in shock over the passing of Bryant.
Photo of Calabasas Crash Site
The Mamba Mentality was one that on paper seems easy to obtain. The Mamba Mentality is a simple concept; but very hard to accomplish. Put in the time, never give up fixing your mistakes and doing it again and again until you can get it perfect. Seems easy enough, but to do it with the intensity of Kobe Bryant, that requires a special drive. It means starting your work outs at 2:30 in the morning, icing when you hurt and scoring 60 points in your final game despite injuries and exhaustion.
Kobe in his Own Words
What any people may not know about Bryant, despite being the fierce competitor that he was… he also had a very good sense of humor.
"WHEN YOU CAN LAUGH AT YOURSELF, YOU ARE TRULY FREE" TED LODER
Kobe was fierce, smart and electric on the court. Fans would sometimes complain that Kobe would not pass enough. "Magic" Johnson said that during halftime of one game the Lakers were losing and Kobe addressed the team saying "If you are not going to do enough to win, get out of my way because I will do it on my own." Its that fire and competitive nature that will lend Bryant to the ages. Despite this tragedy, Bryant's legacy and greatness will continue to live on. Current NBA players grew up watching, studying and emulating Kobe. Everywhere you look his finger prints will be on the game. Additionally, his fierceness carried over to his business ventures and most importantly as a father to his children.
KOBE's FINAL GAME
From the children who yell "Kobe!" to the adults who both crumple up pieces of paper and emulate sinking a basket as # 24; future NBA legends will follow the Mamba Mentality, the game now belongs to Kobe Bryant. For the adults, tributes from those we love to watch play the games we love (no matter what that game is) have been posted on social media like nothing we have ever seen.
David Beckam's Post on Instagram
In the end, his game transcended basketball. He developed to learn from his mistakes and grew into the legend he became. For that may be his greater impact on his legacy.
KOBE BEAN BRYANT | August 23, 1978 to January 26, 2020
Bryan's entertainment company has an Oscar winning animation short titled "Dear Diary." This short will be shown by coaches, mentors, and athletes for years to come. The short will help develop and motivate athletes and teams. Kobe Bryant was the influence and mentor to athletes around the world whether he met them or not. The best lesson we can take from Kobe is when he said "The most important thing is to try and inspire people so that they can be great in whatever what they want to do."
This is the respect the Black Mamba has; no matter where you call home…. TODAY, everyone can be a Lakers fan.
The House that KOBE Built
That being said, the human tragedy of this event will impact us all over the coming days. The loss of a child, not only for the Bryant family, but all the passengers is as awful an event that we can imagine. We'll collectively grieve for all the souls lost. For Kobe, he's survived by his wife Vanessa, daughters Natalia, Bianca and Capri.
For many people, we live and die with our sports teams. We revel in their accomplishments and share in their defeats. We literally live vicariously through the teams we follow, and the sports heroes we attach to our souls. This loss will hurt for a long-long time. All I can say at this point is Kobe, and to all those who perished, may you forever rest in peace.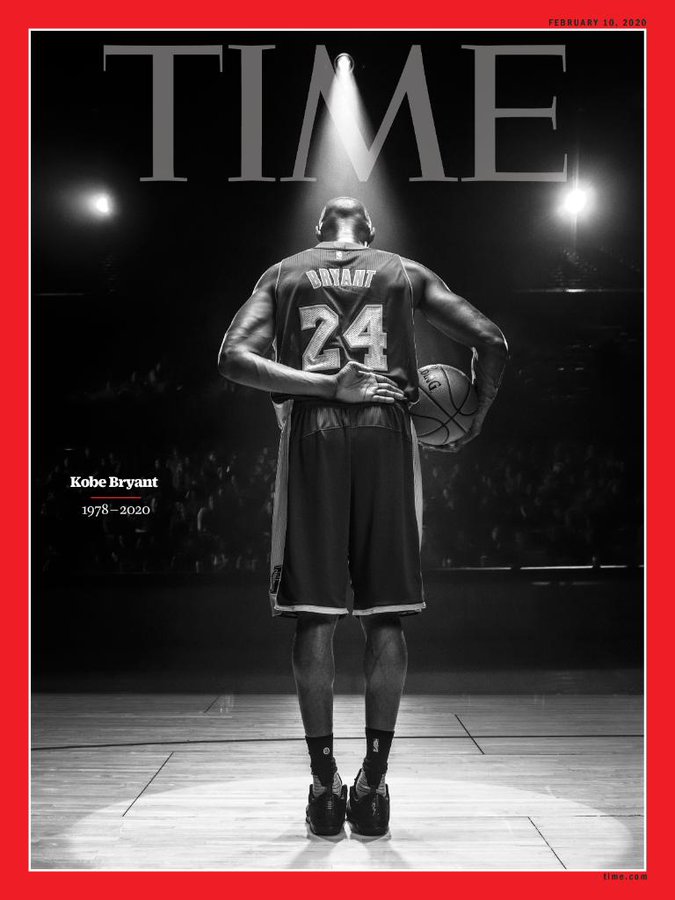 As a post-script, this is how much Kobe meant tot he world of sports, business and fandom. He will receive an honor typically reserved for Presidents and other world leader. He will grace the cover of a special edition of Time Magazine.