IRS Extends Filing Date
March 18, 2021 by Todd Sherman
In a much anticipated move, The U.S. Department of the Treasury and The Internal Revenue Service announced that they will extend this year's tax filing deadline for the 2020 tax year to May 17, 2021
Yesterday, the I.R.S. put out a statement confirming the date change. In short, the decision to push back the filing date was part of a three fold plan intended to assist taxpayers.
First, the extension would give the Department of Treasury time to focus time and its resources on issuing relief payments to eligible taxpayers as part of President Biden's COVID-19 stimulus package (The American Rescue Plan Act of 2021). Second, another consideration was to allow filers more time to navigate tax situations complicated by the coronavirus pandemic. Third, crazy weather has hit many people hard the past few weeks, this extension will assist those adversely impacted in the devastated areas.
IRS Commissioner Chuck Rettig said in a statement, "The IRS wants to continue to do everything possible to help taxpayers navigate the unusual circumstances related to the pandemic, while also working on important tax administration responsibilities."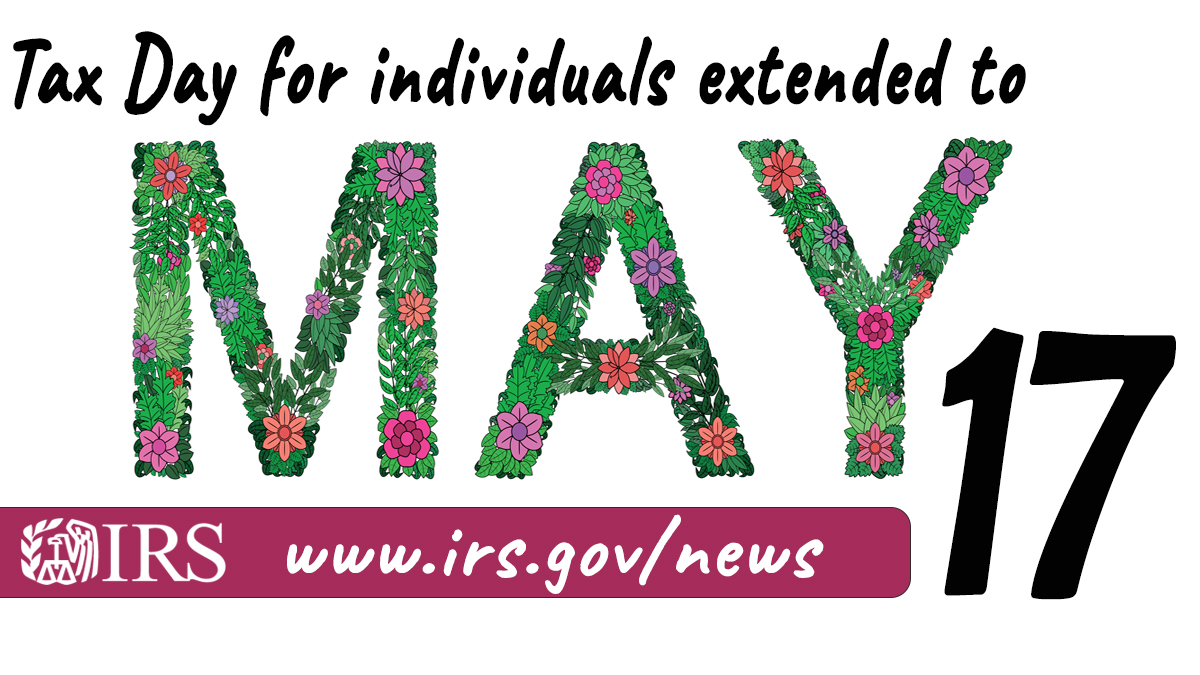 Taxpayers do not need to take any action to qualify for the new deadline, it is automatically granted. Any taxpayer that needs additional time may still request an extension that would run through October 15, 2021. This new deadline does not apply to estimated tax payments. The estimated tax payments are still due by April 15th, 2021.
The I.R.S. also stated that they will be providing formal guidance in the coming days.
State Tax Returns
The I.R.S. also commented on state tax returns. They said, "The federal tax filing deadline postponement to May 17, 2021, only applies to individual federal income returns and tax (including tax on self-employment income) payments otherwise due April 15, 2021, not state tax payments or deposits or payments of any other type of federal tax. Taxpayers also will need to file income tax returns in 42 states plus the District of Columbia. State filing and payment deadlines vary and are not always the same as the federal filing deadline. The IRS urges taxpayers to check with their state department of revenue."

FOR MORE DETAILS and UPDATES
SID 210324 | JIMMY ALVAREZ, EDITOR
IRS EXTENDS FILING DEADLINE