Clive Farrington Promises New Music
Playing LIVE at Gallagher's Pub HB
May 11, 2021 by Traci Turner
An actual LIVE show is happening this weekend in Huntington Beach when Clive Farrington, original member of When in Rome UK, will share new music at Gallagher's Pub.
When the English band released their debut album in 1987, they found success with "Heaven Knows," "Wide, Wide Sea," and "Everything," but it was "The Promise" that took off on the airwaves. As one of the KROQ request line answerers of the '90s, I can confirm whenever "The Promise" was played, the phones went crazy. Very few songs had that power, so to know one of its creators has new music headed our way is exciting.
Farrington made time to chat with me, and man… I would listen to him read the phone book. In addition to his wonderful accent, Farrington is friendly, entertaining, and tells great stories. We talked audio books, ice cream, advances in technology, plus new material, which he will debut this weekend.
Traci: A live show! Hooray! Is this your first post-lockdown gig?
Clive: I did a small one in Scottsdale, Arizona, a golf club. It was like a private event, small numbers. Everybody was doing the right thing and social distancing… so everything was followed. I thought it was a kind of a step into the into warmer waters, as it were, in Arizona. But I'm really looking forward to this one, because it's on home turf. And just before I spoke with you, I spoke with Archie's ice cream. They're actually supplying the ice cream in the green room for me.
Traci : So that's what you need to be a rock star…ice cream?!
Clive: Absolutely! Archie's ice cream is rock and roll ice cream. Inside the truck, it's got signatures from Def Leppard, from Iron Maiden, from Van Halen. It's proper rock and roll ice cream truck. And the guy that runs it is a really, really lovely fella and he loves rock and roll.
(BTW: The ice cream truck will be available to concertgoers as well!)
Traci: Who will be playing with you Sunday?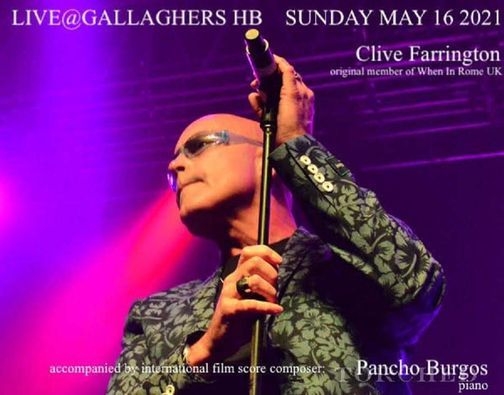 Clive: It's just me this time, and Pancho Burgos is my musical director for the day. He'll be playing with me and playing keyboards accompanying me. I'm doing about 45 minutes set and I love playing these very intimate venues. We played one in Canada a couple of years ago, and Andrew (Mann – the other original vocalist on the debut record) and I, it was a question and answer session. So between songs that people were throwing questions from the audience about the history of the band and everything else. And I guess I'll throw a little bit of that on this one as well.
Traci: That's the stuff I love; hearing about song origins and inspiration. I just finished Neil Tennant's book," One Hundred Lyrics and a Poem" and it amazes me how you creative people make things happen from nothing or a line in a book.

Clive: David Bowie was the master of it. He used to cut clippings out of newspapers, of paragraphs and sentences, with interesting words and he'd throw them on the ground and see where they landed together. But I think God has given me something where I can actually hear it. If I hear a really, really good tune, I can automatically come up with lyrics. A guy I know (Colin Wood), I saw on Facebook he was playing this thing and he says, "I've not really worked any further than this little riff." So I said, can you send me the wire file and I'll see what I can come up with. As soon as I put it into my into my music program, the lyrics started spinning out of my head. That is exactly how we wrote "The Promise." I programmed that drum track… and programmed the bass… as soon as that started to kick in and the piano at the beginning, "The Promise" lyrics just came out of my head. And the amazing fact about that is that we never wrote that down. We never wrote the lyrics down, we actually sung the lyrics onto a little cassette before we even wrote them down. I don't think we wrote them down for another 20 years. We just recorded them.
Traci: When we would play that song on the radio, the phones would go crazy, "What is that song?!" Back in the pre-internet days when you actually had to call and ask what songs were played.
Clive: Wow! You mention the fact that there was no Internet. I mean, I'd written the first verse (of "The Promise"), the first chorus. We recorded the vocals directly onto cassette and we sent the cassette down to Andrew. It took him took about a week for him to get the cassette. Of course, nowadays you can just within seconds you could learn like the way we write now. Andrew and I still write together and I can come up with something and I'll just send it to him straight away and he'll come back with some lyrics and stuff. (But back then), we had to wait another week. So it took two weeks for him to come back with the second verse, because I'm sure Andrew wrote the second verse. That was the kind of formula that we kept for When in Rome; I'd write the initial lyric and then Andrew would finish off with his storming lyrics.
Traci: "The Promise" got a burst of renewed interest in 2004, right?

Clive: Yes, the film "Napoleon Dynamite" came out in 2004 and we had the success with the song again, which meant that we had more new notoriety, as it were, and we came back touring again. ("Napoleon Dynamite" used the song in the final scene and credits.)
Traci: What can we look forward to with the new music?
Clive: They're actually remixing it right now. Andrew and I got together in Manchester a couple of weeks ago. I went to the UK a couple of weeks ago to visit my folks and we got together and he recorded vocals with me for this new track, "2FixUs" ("To Fix Us"). It could have been recorded directly after "The Promise" because when we wrote "The Promise," we had this kind of feeling that it was going to be a hit record. You know, we'd never had a hit before, but we had a gut feeling that there was something special about the song. And we kind of got this gut feeling with this new song "To Fix Us." Another new song called "Don't Stare at the Sun," we've got Neil X from Sigue Sigue Sputnik. He's playing guitar on it and he's written it with us. So we've got Neil X on that one and we've got Andrew and myself. The song is called "Don't Stare at the Sun" and I'm actually previewing it this Sunday (at the Gallagher's show).
Farrington also has a plan for the video at a breathtaking location with a "top notch" director, which will hopefully be finalized soon. With or without the video, "Don't Stare at the Sun" will be released in June to coincide with the summer solstice: June 20th at 8:32 p.m. PT / 11:32 p.m. ET.
Traci: Do you want to try to tour also?
Clive: Well, we would love to tour. I really love touring, of course. We have a lot of fun on the road. It's a bit like Laurel and Hardy. The banter that we have between us is so natural. It's a breath of fresh air being on tour with him (Mann).
Traci: I imagine a band is like a marriage and traveling can be a challenge.
Clive: Absolutely. And we know when to get out of the way. We understand that people need the space and everything else, and it works out very, very well for us.
Traci: So kind of like the ice cream, do you have a specific thing that HAS to be with you on tour?
Clive: It sounds very boring, really, but I have to have all the writing stuff with me, like my laptop and the microphone. I have a USB microphone now that just plugs directly into the back. So any ideas that I get on the road. I'm a man of simple tastes as well. I don't really have anything much in the green room. I'm not a "give us ten bottles of champagne or else I'm not or I'm not going to do the show." I'm not that kind of guy. But most essential to me is to have something that I can use (for writing) because I'm always thinking about it and stuff. I've just bought this new… microphone, and it's also a sound card as well. You can record vocals with it and you can actually monitor from the microphone itself. You only need the microphone and the laptop and the tiny little keyboard, a little traveling keyboard ideas. I love technology. Technology's my thing. And, you know, I guess an electric toothbrush is important as well.
Traci: (laughing) Yes, fresh breath is vital!
Farrington will preview the new songs – along with fresh breath! – this Sunday. Grab your tickets and be among the first to hear "Don't Stare at the Sun" and "To Fix Us" Sunday May 16th at 7 p.m. PT at Gallagher's Pub in Huntington Beach.
TO GET TICKETS
To stay updated on the video and new material, plus the re-release/updated version of "Heaven Knows" on picture disk:
SID 210508 | JIMMY ALVAREZ EDITOR